Stereo Audio Cables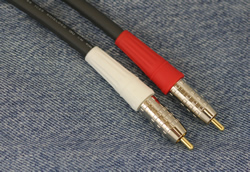 Even as we move more and more into the digital age, stereo audio cables remain at the heart of practically every audio/video installation. Whether it's to connect television audio for use without a surround receiver, to hook up traditional two-channel audio sources like turntables and tape decks, or just to incorporate older equipment such as a VCR into a home theater setup, unbalanced analogue audio is handy to hook up, simple to troubleshoot, and nearly universally supported by devices. We offer our stereo audio cables in any length, for maximum versatility.
If you're looking for a stereo audio-to-mini 1/8" plug cable (typically used with an Ipod, other MP3 player, or any of a variety of portable devices), see below.
The Cable: Blue Jeans Cable LC-1 Low Capacitance Audio Cable
The most important attributes of a line-level unbalanced audio cable are (1) shielding, and (2) capacitance. Heavy shielding protects audio signals from interference from outside sources. LC-1 Audio Cable uses a heavy double-braid shield, with one bare copper braid laid directly over another for extreme high coverage and high conductivity to ground; this is the identical shield configuration to Canare LV-77S, which tested best in our review of audio cable hum rejection characteristics (LC-1 hadn't been designed yet so wasn't tested at that time). By shrinking the center conductor to 25 AWG and foaming the polyethylene dielectric, we were able to get capacitance down to an extremely low 12.2 pF/ft, much better than LV-77S at 21 pF/ft. Capacitance can be important, particularly in long cable runs, because it contributes to rolloff of higher frequencies. The softer dielectric material and smaller center conductor, meanwhile, make the cable highly flexible and easy to route. LC-1 is built exclusively for Blue Jeans Cable by Belden, the leader in American communications cable, and is rated CM for in-wall installation in residential and commercial environments. For more information and specs on LC-1, read our "LC-1 Design Notes" article.
The Connectors: Taversoe Crimp RCA Plugs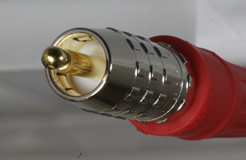 Connectors are a critical part of any audio cable, because if the cable isn't well-joined to the connectors, or if the connectors don't make firm electrical contact with the jacks, it doesn't much matter how good the cable is. Our LC-1 cables are terminated with the Taversoe RCA plug, a high-quality RCA plug with an all-metal body and shell specifically designed for the perfect dimensions for use with LC-1. Its all-metal body, crimped tightly to the shield braid, completes the shielding assembly from cable end to cable end, to ensure that the cables do not become an entry point for noise. These plugs are gold-plated on all jack-contact surfaces, and employ a set of leaf-spring style grippers on the outer RCA ring which apply just the right amount of force to the jack to grip it firmly without overtightening.
For Miniature Applications: BJC MSA-1 Audio Cable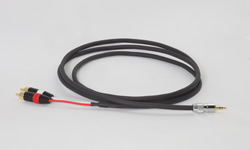 Many portable devices now run analogue audio through a 1/8" stereo mini-plug, which isn't compatible with the larger cable size of the LC-1. For these applications, we carry our own miniature stereo audio cable, the MSA-1. MSA-1 is a pair of miniature unbalanced audio cables, wrapped in an outer round jacket; each of these miniature cables carries a full braided shield overlaying a layer of foil, for high shield effectiveness as compared with typical miniature "serve-shield" cables. MSA-1, like the LC-1, is made in bulk for us by Belden here in the US, and is terminated in our own shop in Seattle; we offer it in a variety of termination options, the most common being 1/8" stereo to a pair of RCAs. This cable is rated CMX under the National Electrical Code, which makes it lawful for in-wall installation in single-family residential applications.
MSA-1 Special Applications:
We also can terminate the MSA-1 in a variety of nonstandard configurations for use as a Y cable, a phase-splitting balanced cable, and the like. Because these applications require separate discussion, we have put them on our MSA-1 Special Applications Page.
These cables are all assembled here in our own shop in Seattle using precision equipment, and are individually tested before they go out the door. We think you'll be impressed with their performance; but we also offer a simple and easy return policy. If for any reason you're not completely satisfied, just return the cables, undamaged, within 30 days and we'll refund your purchase price in full.
Other Alternatives:
Different Coaxes:
In addition to our standard LC-1/Taversoe RCA configuration, we can supply audio cables in any of a number of different cable types. Our other cables do not fit the Taversoe RCA body, so are each matched with an appropriately-sized, similarly-constructed Canare RCAP plug. For a complete list of the cables we carry, click here.
Belden 1505F:
Belden 1505F is another excellent choice for analogue audio; it is smaller in profile than LC-1 (.242 inch diameter versus .305), has double-braid shielding, and is higher in capacitance (17 pF/ft) but lower in price. View the technical specs for Belden 1505F.
Belden 1694A:
Belden 1694A is also an excellent choice for analogue audio; its foil/braid shield, though slightly less effective at excluding low-frequency EMI than 1505F's double braid shield, provides better RFI rejection, so 1694A may provide better shielding performance if you are beset with RFI issues. 1694A is an RG-6 type solid-core cable, and so is somewhat thicker and stiffer than 1505F. View Belden's technical specs for 1694A.
Techflex Braided Cable Jacket:
All of our cable sets above will be delivered as two separate cables of identical length. However, if you prefer cables which are grouped together in a common jacket, we also offer Techflex, a black plastic braided covering similar to a "finger trap," for stereo audio cables up to 25 feet in length.
To Order:
Enter the length and any options you need in the appropriate form below, hit "calculate," and the price will appear at right. If you'd like to see a list of prices for these cables in a variety of lengths, see our Stereo Audio Cable Price List.