Balanced Audio Cables
Balanced audio circuits are used in most professional audio equipment and on some of the best consumer gear. Professionals prefer balanced to unbalanced connection, because balanced audio circuits benefit from a phenomenon known as "common mode noise rejection,", in which noise which is induced into interconnect cables tends to be cancelled out because the desired signal is running in differential mode, while the noise arrives in common mode.
In general, where there is a choice between connecting your equipment balanced or unbalanced, it's better to go with a balanced connection. This should be distinguished, however, from the situation where the device at one end of a connection supports either balanced or unbalanced connection, while the other device supports unbalanced (usually through "RCA" connectors) connection only. In such a case, it's almost always better to hook your equipment up unbalanced to unbalanced, rather than try to rig a balanced-to-unbalanced connection.
The Cable: Belden 1800F
Our balanced audio cables are made with Belden 1800F, Belden's best STP (shielded twisted-pair) balanced audio cable. Belden 1800F provides extremely low capacitance (13 pF/ft), and excellent "french braid" shielding which allows great flexibility without compromising shield coverage. Belden 1800F is an AES/EBU 110 ohm cable, which means it's suited not only for analogue audio but also for the most demanding balanced digital audio applications. View the Technical Specs for Belden 1800F.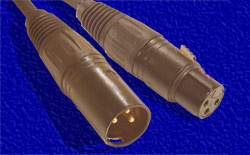 The Connectors: Neutrik XLRs
Most balanced cables are terminated with XLR connectors; we use the Neutrik NC3-B series XLR connectors with gold-plated pins, which have a particularly effective strain relief system which tightens down on the cable jacket from three sides as the strain relief boot is applied to the connector body, directing as much pull-force as possible to the cable jacket rather than to the signal conductors. The Neutrik connector bodies are heavy and durable, and good for many thousands of insertion/removal cycles.
As with all of our products, we offer a simple and easy return policy. If for any reason you're not completely satisfied, just return the cables, undamaged, within 30 days and we'll refund your purchase price in full.
Other Alternatives:
Cable: Canare L-4E6S Star Quad
As an alternative to Belden 1800F, we now offer the popular Canare L-4E6S "star quad" balanced audio cable. This cable uses two pairs of conductors in a quad configuration for better common mode noise rejection, surrounded by a full tinned copper braid. The capacitance of the star quad design is higher than for a single-pair cable, but its noise rejection characteristics are excellent. For most applications, we recommend the 1800F, but if you are dealing with induced noise problems, the star quad cable may be a better choice.
Other connectors:
In addition to the Neutrik XLR connectors, we also carry 1/4 inch TRS Phone Plugs from Canare; these are intended for use where balanced lines are run in a TRS configuration--not, of course, where the 1/4 inch TRS plug is being used for stereo unbalanced audio. Additionally, we do carry Canare solder-type RCA plugs which can be attached to these cables to make a balanced-to-unbalanced connection; however, since there's no single accepted standard for wiring an XLR-to-RCA cable, we ask that you write to us and let us know what pinout you need before ordering such a cable.
To Order:
Just fill in your cable length in feet in the appropriate form below, select your connector configuration, and click "Calculate" to display the price. To purchase, click "Add to Cart." To see a list of sample prices for common lengths, see our Balanced Audio Price List.