Blue Jeans Cable -- For Our UK Customers
Welcome to Blue Jeans Cable's UK website, recently updated post-Brexit to deal with new conditions on shipping to the UK. If you're a customer with a non-UK shipping address, please go to our main website, bluejeanscable.com, which serves the rest of the world.
Although Blue Jeans Cable is located in Seattle, Washington, USA, this site is designed to make purchasing in the UK as seamless as if we were a UK supplier. We are VAT-registered in the UK; our prices on this site are VAT-inclusive; and we use fast shipping methods to make sure things will get to you promptly. Additionally, we have set things up with our shipping companies to ensure that when you order from this site for UK delivery, you will not owe any customs duty or VAT upon delivery, regardless of the size of the order.
New: Ultrasonically-Welded Speaker Cables
Blue Jeans Cable now offers a unique enhancement to our speaker cable line: ultrasonically-welded banana plugs. Where conventional banana plugs are applied to cable by setscrew or compression-screw methods, our locking bananas are now welded directly to the copper cable for the best in high-strength, low-resistance bonding. To read more about this process, see Ultrasonically-Welded Speaker Cable at BJC.
BJC Series-1 and Series-FE HDMI Cables: Different by Design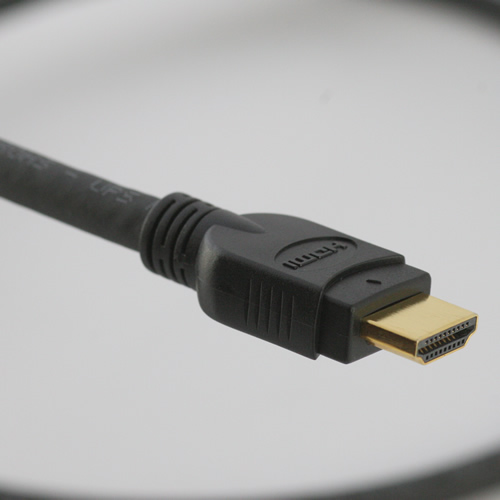 As a general rule, HDMI cables are nearly identical to one another in their internal structure. Blue Jeans Cable offers the only cables on the market with a fundamental structural difference: the BJC Series-1 and Series-FE Bonded-Pair HDMI cables. One of the dirty secrets of HDMI cable manufacture is that the vast majority of products are simply rebranded Chinese-made cable stocks and assemblies. The BJC Series-1 and Series-FE are the exceptions to that rule: the bulk cable is manufactured in the USA, using Belden's patented bonded-pair technology for superb impedance stability, low return loss, and better reliability over distance; only the connectorization is done in China. The high quality of the BJC cables is attested both by our longer-than-the-competition HDMI testing certifications and by in-use experience; we have run 1080p video in the Series-1 cable 125 feet without information loss, with no booster or EQ unit required.
Tartan Economy HDMI Cables:
Need something more conventional, at a bargain price? See our Tartan HDMI Cables -- there's nothing wrong with Chinese cable as long as you get it at a made-in-China price!
Our HDMI Cable Information Center:
Questions about HDMI cables? Our HDMI Cable Information Center provides the most detailed information on the web on every aspect of HDMI cabling. We are not merely a reseller of HDMI cable--we have been involved in development of HDMI cable products since 2006.
-