Data Cables
Certified Cat 5e, Cat 6, and Cat 6a Ethernet Patch Cords:
The vast majority of cables sold as Category 6 or 6a, whether in brick-and-mortar establishments or online, simply do not meet the Category 6 or 6a specifications; we've put a lot of samples of a lot of other manufacturers' product through proper certification testing, and cables that actually pass spec are unusual. In fact, it's not uncommon for cables that are sold as "Cat 6" to even fail to meet Cat 5e specifications. Vendors get away with misrepresenting Ethernet patch cord performance because the average consumer isn't in a position to buy the $10,000 worth of gear it'll take to check his purchase against the spec. Here at Blue Jeans Cable we don't want to have anything to do with misrepresenting spec compliance -- every Ethernet patch cable we sell comes with its own individual test report, run on a Fluke DTX-1800 certification tester, showing that it meets or exceeds the applicable spec. If it doesn't, we won't sell it.
Categories and Cables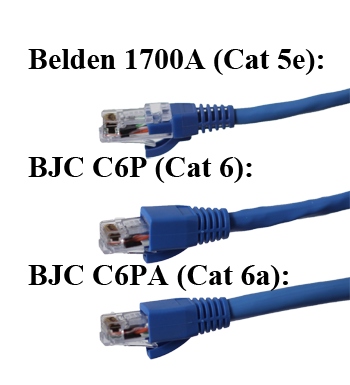 The three classifications of Ethernet cable we sell are Cat 5e, 6, and 6a. The principal difference between these three categories is bandwidth; Cat 5e is built to meet performance specifications (set out in TIA-568-C.2) up to 100 MHz, enabling it to handle common 100Base-T and 1000Base-T wired networks. Cat 6 goes much farther, with performance confirmed to 250 MHz; and 6a goes to 500 MHz, which, together with PAM-16 encoding, gets bandwidth all the way to 10 Gigs. To do this requires highly consistent bulk cable manufacture AND quality termination work, but the vast majority of patch cords on the market are cheap Chinese product, manufactured to very lax quality standards. We take specification compliance seriously here; not only do we use top-quality bulk cable and connectors, but we certification-test every cable assembly to ensure that every assembly we ship meets spec.
Our principal offerings for these three categories are all Belden-manufactured, bonded-pair cable. Belden's patented bonded-pair technology goes beyond conventional data cable pair twisting and actually bonds the two conductors of each pair together for exceptional impedance stability and low skew, especially under real-world flex and strain conditions. For Cat 5e, we use Belden 1700A, a stock Belden cable. For Cat 6 and 6a, Belden doesn't sell patch cord stock in its standard catalog (the cables you may be familiar with are designed primarily for "horizontal" use), so we've asked Belden to manufacture special patch-cord-optimized Cat 6 and Cat 6a cable stocks for us which we terminate and sell under the Blue Jeans Cable brand. With all of these cables, we use Sentinel brand RJ-45 connectors, manufactured in York, Pennsylvania. We also offer, as a more economical alternative, Belden 1583A--this is a conventional non-bonded pair Cat 5e cable, with a Panduit RJ-45 bootless but "snag-proof" connector. Regardless of the cable stock used, all of these cables are assembled and tested right here in Seattle by American workers.
Test Reports:
With each Ethernet cable you purchase from us you'll receive a test report showing exactly how that cable performed when run through our Fluke DTX-1800, and confirming that it meets or exceeds the specification requirements for its category. To see a sample of such a test report, and an explanation of what it means, see our article on how to read a DTX report.
USB Cables: 2.0 and 3.0
We have USB cables in 2.0 and 3.0 versions, as listed below. All cables are terminated in the standard configuration with one type A and one type B connector, the difference between the 2.0 and 3.0 being in the connector style (3.0 has more conductors in the cable, hence more contacts in the connector and, in the case of the type B, a larger connector envelope). Compatibility Notes: USB 2.0 plugs will fit in 3.0 jacks, and USB 3.0 "type A" plugs will fit into USB 2.0 "type A" jacks, but a USB 3.0 "type B" plug will NOT fit into a USB 2.0 "type B" jack. A USB 3.0 cable will work either to interconnect USB 3.0 devices or to connect a 3.0 device (with B jack) to a device with a 2.0 type A jack; if it's used to do the latter, however, it will work no better than a 2.0 cable would. For a comparison of the type B connectors, see the third photo below:
| | | |
| --- | --- | --- |
| | | |
| USB 2.0 cable | USB 3.0 cable | USB 3.0 and 2.0 "B" connectors |
USB 2.0 Cables
Black jacket, type A to type B connectors
Length
Price
Length
Price
10 foot
15 foot