Subwoofer Cables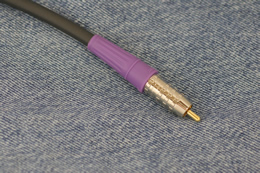 In some ways, the subwoofer cable interconnect is the least demanding application in home theater. While HD video demands cables able to carry high-bandwidth signals, at tight impedance tolerances, the subwoofer cable has the relatively easy job of carrying a very low-frequency, very low-bandwidth signal. But a subwoofer cable has a critical job to do, and needs to do it well: keep out hum. Hum can come from ground loops (cable won't help you if that's the case, but see our isolation transformer below) or, often, from EMI (electro-magnetic interference). High-energy, low-frequency noise, like the 60-cycle hum from nearby power cords, fluorescent lights, and other miscellaneous sources, is the hardest type of interference to shield against, and the best defense here is a dense and highly-conductive braid shield. Our recommended subwoofer interconnect cables have not one, but two, dense braid shields, and in our testing we've found this to be the best shield configuration, outperforming conventional single-braid, braid-and-foil, and unbalanced twisted-pair cables when it comes to hum rejection.
The Cable: Blue Jeans Cable LC-1 Analog Audio Cable
Our recommended subwoofer cable is our own proprietary design, the LC-1 low-capacitance audio cable. It has an extremely heavy double-braid shield layer for the best possible rejection of induced low-frequency hum, and extremely low capacitance for the flattest possible frequency response. It is thick -- about .305 inch in diameter -- but is more flexible than comparably-sized cables, and is therefore easy to route around corners and obstacles. Unlike most analogue audio cables on the market, too, LC-1 is UL-listed and bears a CM rating under the National Electrical Code, so is suitable for in-wall installation in both residential and commercial environments. (CM is a superior rating to the more often-seen CL-2 and CL-3 ratings). For more information and specs on this cable, see our "Design Notes" article about LC-1.
The Connectors: Taversoe Crimp RCA Plugs

Connectors are a critical part of any audio cable, because if the cable isn't well-joined to the connectors, or if the connectors don't make firm electrical contact with the jacks, it doesn't much matter how good the cable is. Our LC-1 cables are terminated with the Taversoe RCA plug, a high-quality RCA plug with an all-metal body and shell specifically designed for the perfect dimensions for use with LC-1. Its all-metal body, crimped tightly to the shield braid, completes the shielding assembly from cable end to cable end, to ensure that the cables do not become an entry point for noise. These plugs are gold-plated on all jack-contact surfaces, and employ a set of leaf-spring style grippers on the outer RCA ring which apply just the right amount of force to the jack to grip it firmly without overtightening.
These cables are all assembled here in our own shop in Seattle using precision stripping and crimping equipment, and are individually tested before they go out the door. We think you'll be impressed with their performance; but we also offer a simple and easy return policy. If for any reason you're not completely satisfied, just return the cables, undamaged, within 30 days and we'll refund your purchase price in full.
Alternatives and Add-ons:
In addition to our standard BJC LC-1/Taversoe RCA configuration, we can supply the following options:
Other cables:
In addition to our standard LC-1, we carry a variety of raw cables from which we can make subwoofer cables. A few are listed below; for a complete list, click here. Because these other cables do not fit the Taversoe RCA plug, we terminate them with Canare RCAP RCA plugs, sized for the particular cable in use.
Canare LV-77S:
Prior to the introduction of our LC-1 cable, Canare LV-77S was our recommended subwoofer cable; it has the same shielding as the LC-1, but a larger center conductor and solid dielectric, which gives it higher capacitance. LV-77S is not UL-listed or rated for in-wall use. View Canare's description and technical specs for LV-77S.
Belden 1505F:
Belden 1505F, also a double-braid shielded cable, is both more flexible and less expensive than LC-1 or LV-77S; in many applications, where EMI noise is not extreme, it will work equally well. View the technical specs for Belden 1505F.
Belden 1695A Coax:
Belden 1695A is a Teflon-dielectric cable, fire-rated for use in a plenum (e.g., a dropped-ceiling space used as a ventilation return). Its braid/foil shielding provides excellent hum rejection, and 1695A is our best plenum cable for subwoofer use; if you don't need a plenum-rated cable, however, the hum rejection characteristics of both LV-77S and 1505F are superior. View Belden's specs for 1695A.
Calrad Isolation Transformer:
There are two primary reasons why an otherwise healthy subwoofer may hum, and cables can deal only with one of these: EMI. The other possibility, a ground loop, is something your cables can't fix, and has to do with differences in ground potential in your system's power wiring. Although the best and most permanent way to eliminate ground loop hum is by fixing the underlying grounding problem, another simpler way to resolve the problem is to insert an isolation transformer in your subwoofer line to break the ground connection between your source and your subwoofer. We carry a small isolation transformer for this purpose, from Calrad.
Y-adapters:
Some subwoofers function best with the signal fed not to one, but two, inputs--if you're in doubt about whether to feed signal to one or to two inputs, consult the manual for your subwoofer. We offer two different adapters to split the signal from a single output to more than one sub input; the most often-used type is our short Y cable, with one female end and two male ends, made for us by AVLink. This is a well-built, braid-and-foil shielded cable, about one foot long. Alternatively, we also carry a small plastic hardshell adapter with one male and two female connections; this is useful if you're daisy-chaining subs together or jumpering from one sub input to another, but necessitates using another cable to make the jumper connection.
To Order:
Just fill in your cable length in feet in the appropriate form below, select any applicable options, and the price will display to the right. To purchase, click "add to cart." To view a list of sample prices of these cables in various lengths, see our Subwoofer Cable Price List.
Adapters and Transformers
Description
Price
Calrad Hardshell Y adapter, 1M/2F RCA
One-foot (30 cm) Subwoofer Y cable, 1F/2M RCA
One-foot (30 cm) Y cable, 1 Male/2 Female RCA
Calrad Audio Isolation Transformer